It's the dumping ground for all off topic comments -- complain, self-promote, bring up off the wall things to talk about, ask to be added to the blog roll, whatever.
For my part this week I wanted to draw attention to a website I am sure everyone already knows about, but for some reason I just found it myself this week. It's called
Project Rooftop
. I don't care about the Halloween-style costume contest that is currently up; the main point of the site is to showcase artists who redesign the costumes of traditional superheroes. For example, here is Jamie McKelvie's Wonder Woman from April 26th: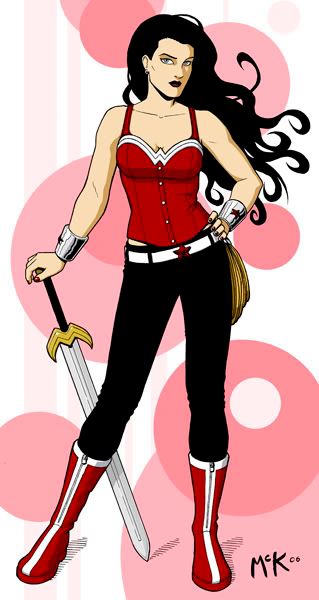 Should be Joss Whedon's Wonder Woman, no? Anyway, the site quite cool, and there isn't that much there, which means you can see everything in a few minutes. What I like about it is the way it combines superhero material with fashion magazine ideas -- these are importantly not
character
redesigns, they are
costume
redesigns. And one of the rules is that you cannot put the character's name in the image, so you can redesign, but not to the point where you can no longer recognize the character, which is excellent. I like people who try to make superheros stylish and cool, cause they should be both. This is a step in the right direction.